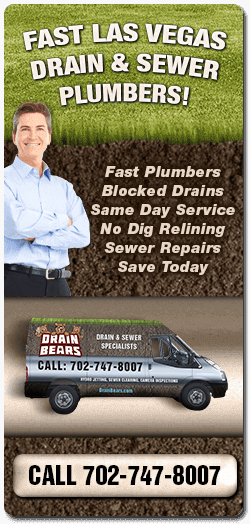 1. Rapid Plumbing, Drain & Sewer Response
If you have a blocked drain, sewer, sink or toilet you'll really appreciate the rapid response Drain Bears provides. Because our team operate from multiple locations across Las Vegas, we're able to get to you fast and provide you with a rapid response to your calls.
2. Drain & Sewer Experts
Our team of expert plumbers are fully trained and experienced professionals able to service all your drain and sewer needs whether they be blocked drains and sewers, tree-root intrusions or cracked or damaged pipes. We are also the 'no dig' trenchless relining specialists in Las Vegas.
3. All Plumbing Services
We can provide expert help and solutions for all your plumbing needs including new installations of hot water heaters, sinks, toilets, showers and tubs.
4. Professional Plumbers
We hire the most qualified and experienced plumbers and provide on-going training to ensure your service-technician is always knowledgeable with the most up to date plumbing techniques and technology.
5. Helpful & Friendly
Your plumber will be helpful and friendly and happily answer any questions or provide professional advise on your drain, sewer or plumbing needs.
6. 100% Satisfaction Guaranteed Service
You can be sure you'll enjoy the level of service we provide, as your satisfaction is guaranteed.
7. Written Warranties
All of our workmanship is fully backed by written warranties for your total confidence.
8. Up-Front Quoting
We provide up front clear pricing on a per-job basis before starting any work, so you'll always know the full price in advance.
For all your quality drain, sewer and plumbing needs across Las Vegas with 1st class, on-time service, call and speak with the professionals at Drain Bears today.
BLOCKED DRAIN LAS VEGAS | LEAKING SEWER LAS VEGAS | LAS VEGAS SEWER REPAIR | SEWER REPAIRS LAS VEGAS | DRAIN REPAIR LAS VEGAS | DRAIN CLEANING LAS VEGAS | LAS VEGAS DRAIN CLEANING | DRAIN CLEARING LAS VEGAS | SEWER CLEARING LAS VEGAS