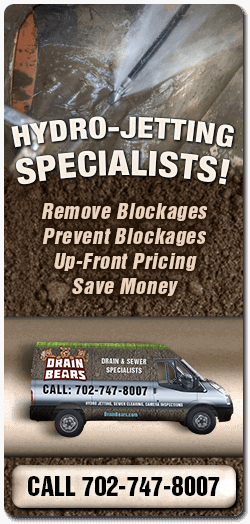 Rapid Response
With our teams available from locations across Las Vegas, you can be confident your call will be responded to fast. We're available 24/7, 365 days a year and our team use fully-stocked service vehicles to ensure we have the right tools and equipment when we arrive to service your sewer, drain and plumbing needs.
Remove Stubborn Blockages
Hydro-jetting's high-powered jets quickly and safely blast through any blockage and allow it to flow harmlessly through your plumbing system and leaving your pipes blockage free.
Perfect for Hard To Reach Pipes
Hydro-jetting's high-powered jets can even clear blockages at range so they are perfect for hard-to-reach pipes.
Prevent Blockages
You don't have to wait until there's a problem to enjoy the benefits of hydro-jetting. Drain Bears hydro-jetting service will clean your pipes, drains and sewers so thoroughly that it can actually help to prevent blockages from reoccurring.
Save Money
Drain Bears hydro-jetting service is a cost-effective alternative to other drain and sewer clearing methods.
Professional Plumbers
Drain Bears are fully licensed and insured for all plumbing work you may require. We have extensive experience of hydro-jetting in the Las Vegas area and all of our professional service-technicians are highly skilled with its many uses and applications.
Clear, Up-Front Pricing
With Drain Bears we provide full, up-front prices which are based "Per Job" and not "Per Hour".
For more information regarding the many benefits of our hydro-jetting service, call and speak with the professionals at Drain Bears today
SEWER JETTING LAS VEGAS | HYDROJETTING LAS VEGAS | DRAIN JETTING LAS VEGAS | LAS VEGAS DRAIN JETTING | SEWER JETTING LAS VEGAS | LAS VEGAS HYDRO-JETTING